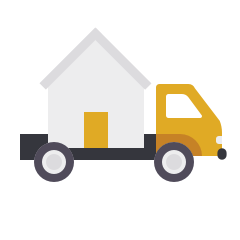 PACKING AND MOVING SERVICE IN WARNER ROBINS, GA
Already started preparing to change houses, but don't understand where to start?
Packing Services for Our Moving Clients in Warner Robins, GA
All items require different packing methods to ensure that they are transported efficiently and without damage. Ready to Move LLC understands this balance thus being able to provide packing services for our clients that are customized while staying within your budget.
All your household goods are packed by our team of experts. We do our best to make sure that all of your items are packed and handled with care along with using the proper materials which ensures that you won't incur damage. We work with our clients to customize packing to their needs.
Contact us today if you want to hire packaging services in Warner Robins, GA.
Why choose us for Packing Services in Warner Robins, GA?
With Ready to Move LLC, you will enjoy the stress-free experience of relocation. You can enjoy unlimited benefits from our help:
Professional packers would help you throughout the process.

Trained and licensed experts would be delivering your packages.

Affordable Prices for Packing and Moving Services in Warner Robins, GA.

Complimentary Padding on Large Furniture
Benefits of Using Professional Packing Services
Quality Packing Material:
At Ready to Move LLC, we understand the need for quality packaging. It is not only necessary for your items, but also for the wellbeing of our staff. For bulky items, you should avoid DIY packaging as you might not know the right quality of packaging needed to deliver.
Fast Packaging:
With professional packers and movers, you get your packing done in a few hours. Experts at Ready to Move LLC have decades of experience in packing which will help you to deliver your luggage smoother and faster.
Insurance:
Ready to Move LLC is a licensed company that offers packing and moving services to its clients. We offer a complete range of services starting from packing, loading, unpacking, and installation.
THESE MOVING SUPPLIES CONSIST OF A NUMBER OF ITEMS:
Wardrobe boxes (hanging clothes – allows them to travel still on the hanger)

Medium boxes (medium objects)

Large boxes (for lighter and larger items, clothes, etc.)

Small boxes (Books, heavy items, etc.)

Dish Packs (extra thick side walls with a higher crush test rating for glass dishes/ china)

Packing Paper (to wrap breakable items prior to placing them in boxes)


Bubble wrap (if requested – not our preferred method of packing)

Tape rolls

Tape guns

How It Works
We'll walk you through each step of the way in moving your residence or business.
Get an Estimate
Contact us via our easy to use Estimate page or just give us a call to discuss your particular details.
Plan Your Move
We'll help you plan from start to finish and even offer plenty of guides for all your moving situations.
Schedule Your Move
Once your date is locked in, we'll guide you through the timeline of events to take the stress out of your next move. 
Satisfaction Guaranteed!
We are movers whose services include nationwide moving, local moving, packing, unpacking, loading, unloading, white glove moving, and heavy items..
What do your packing services include?
Our packing services include as little as one room or your complete house. Our skilled packers have been trained and are ready to begin assisting you with your packing. We may bring the boxes, paper, tape, and bubble wrap on the day of your packing or drop them off a few days beforehand. We customize these services for each customer to ensure that you get the greatest experience possible!
Does Ready to Move charge an additional delivery fee for packaging supplies?
If you are relocating with Ready to Move, they will transport your packing goods to your door for free. We only charge for the supplies that are dropped off at the time.
Which supplies are included in the packaging?
Your pack will consist of bubble wrap, paper packs, various boxes, and tape rolls. Because each relocation is unique, the Ready To Move team brings the appropriate quantities of boxes, paper, and tape for each customer based on their move.

How to find local packing and delivery service near me in Warner Robins?
Ready To Move LLC is the inexpensive, cheap, and most affordable local packing and delivery service near you in Warner Robins GA. Call 478-390-0712 now!