What is an In-Home Move or On-location Move?
Our customers who know us best know that Ready To Move, LLC is ready to help you with just about any size moving job, big or small, residential and/or commercial. Then there are the types of moves that happen around the home or office, or on-location moves, that require the added security and safety of professional help. What many may not know is that you don't have to change your address to need a helping hand within your home or business.
We provide the personnel to move your larger, heavier, more awkward items when it just isn't safe or practical to attempt alone. We are proud to offer "In-Home Moving Services" to help take the stress out of your next move, even if it's only going upstairs (or downstairs!). Even if you aren't changing address, there are plenty of tasks that call for helping hands such as we provide with our clean-out service.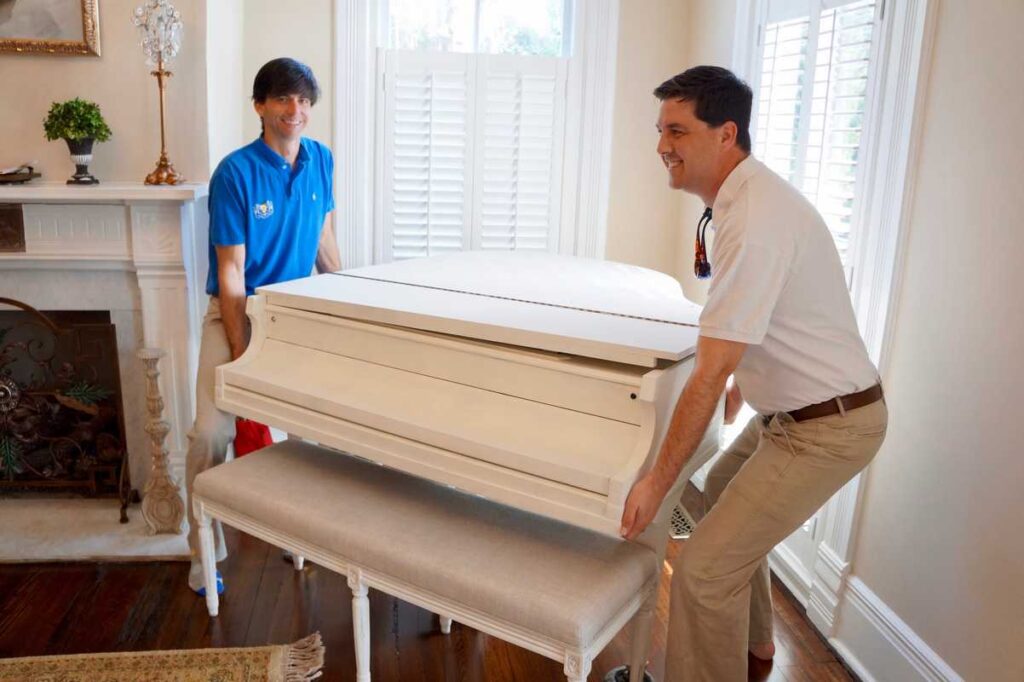 Our In-Home Moving Process
We can schedule an in-home move for any local residential or commercial space in the Middle Georgia area, including Bibb, Monroe, and Houston counties. To note, while most moves are scheduled in advance, don't hesitate to call us for any short-notice moves that we may able to accommodate.
For most folks, the first step in the In-Home Moving process is to reach out to us via our website and request your free, no-obligation estimate. You may also call us directly at 478-390-0712. Whether by web or phone call, we'll gather any details required to determine the most accurate price quote. We take into account what items will be moved, any special circumstances necessary to preserve the integrity of your property (such as if they are fragile or antiques), where you want them moved, and the time and date most convenient for you.
We will then use your personalized details to provide you with an affordable quote that fits into your budget. One of the primary financial benefits of In-home moves is the difference in price compared to our very own "White Glove Full-Service Move", such as the overhead for truck rental, gas surcharges, any additional insurance which may be desired or required, or simply a matter of time. Simply put, when you need assistance moving larger, bulkier items around your home or office, we can accommodate just about any budget. Payments are made upon completion and your absolute satisfaction with our in-home moving service.
Our Crew Leader will provide confirmation of your appointment via email as soon as we book the appointment. We will then arrive on moving day with padded blankets, dollies, tools, and other equipment needed to get the job done as fast and efficiently as possible. Our professional moving teams are well-trained to handle heavy, awkward, and/or fragile items you may not be able to move safely without expert assistance. If you're missing any moving supplies we'll need to protect your valuables during the move, we have you covered there, too.
SPECIAL NOTE: As a direct result of the novel Coronavirus Pandemic, we are taking additional
precautions to ensure a safe In-Home Moving experience for your Family. Our teams utilize N95 Masks, appropriate hand protection, and CDC recommended surface sanitization practices.
In-Home Moving for Furniture, Appliances, Pianos, and More

We provide our Movers with timely and updated training practices to be ready to take on almost any kind of move. We are most frequently asked to move large, heavy, or fragile specialty objects, appliances, antiques, and/or furniture for an in-home move, inter-office moves, and on-location moves.
Here's a list of just some of the items we've moved for our customers:
Refrigerators and freezers
Dishwashers
Clothing Washing Machines
Dryers
Washer/Dryer Combos, stacked/front-loading models
Gas or charcoal grills
Gym and Fitness equipment
Medical equipment
Copier machines
King-sized beds
Full Bedroom sets
Full Room sets such as dining/living rooms
Entertainment centers
Large office furniture such as desks
Bookcases
Gun safes
Couches
Large Antiques such as armoires
Hot tubs
Air-conditioning units
If you have any additional questions about our in-home moving services or you are ready to speak with us here at Ready To Move, LLC, please feel free to contact us.